Gamecity Festival (2016)
I needed to look into how indie game studios are started and how the teams are structured. For this, I headed to the Gamecity Festival; an arts festival where indie developers can go to to show their game to the public. National Video Game Arcade (2016) While there I talked to quite a few developers, all of which have different ways they have gotten into creating indie games, and this affects how each team's roles are split up into different areas.
Humblegrove
is a team that is composed of two people with a background in Illustration, which serves their games art style.
ZeroFiftyOne
creates games on his own but has a background in computing: Button Frenzy (2016) Whilst developers like
Small Impact
(2016) have a larger team of around seven, including people who have been in industry for a while mixed with a few recent graduates. (Black Death)
29 by Humblegrove (Released early 2017)
From talking to these developers I have learnt that it is common for indie devs to crossover roles to what's needed to be done. As the games get larger so does the team and there is more of a requirement to specialise a little bit more. Small Impact despite being a slightly larger indie studio still has some crossover in terms of skillsets.
Most of the reason these studios seem to work so well is that each game they make plays to their skills. Humblegrove's game 29 (2016) is a good example of that because of it's gorgeous graphical art style. Because of the small size of the teams, each individual's skill or personality is reflected in how the studio operates and how the overall game looks and feels.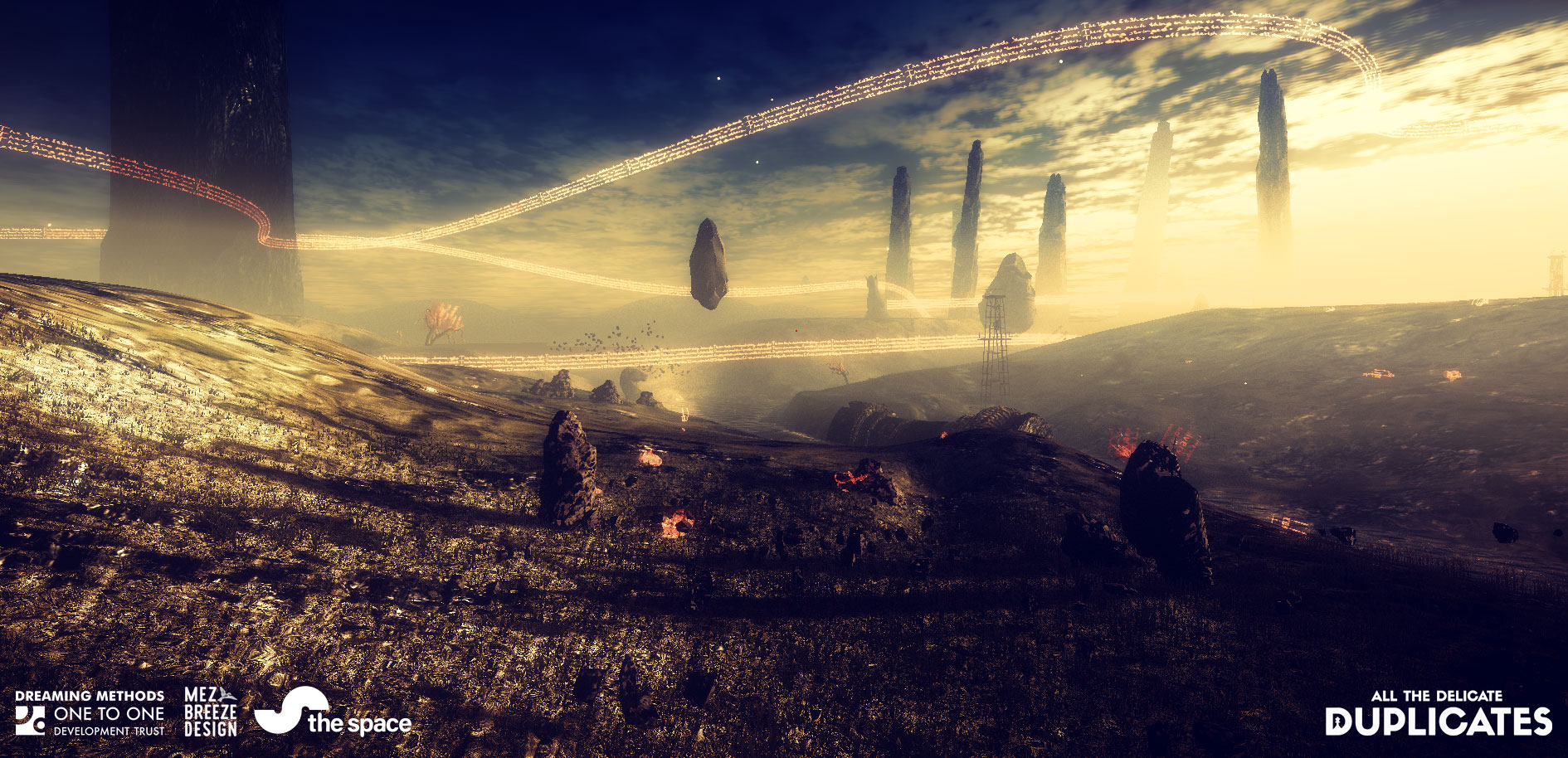 All The Delicate Duplicates
I also gained some other really great advice during the day which could be beneficial to me. When I asked developers what advice could they give to new indie studios a number of them said the same thing: Market the games as much as you create them. While talking about our FMP a number of them said it needs to be shown, even if it might be incomplete, as it gets people interested in possibly helping out with the rest of the development. A producer of the game
All The Delicate Duplicates
(To be released) gave me plenty of advice for things I should do, one of which is attending events with our games on a frequent basis. They are crucial for spreading knowledge of your game aswell as gaining valuable feedback about your game. Another point she mentioned was that of funding avenues and getting publishers, which will require some sort of business model to be prepared in advance along with a playable prototype and a game design document. I also heard this from another developer
National Insecurities
(2016) who also added about being careful with choice of publishers and be sure to shop around even when a deal looks certain.
My Observations
For our indie studio to work well it must do these things:
Have a strong unique point which sets it's games apart from others on the market, whether through art style, game mechanics etc
Marketing - All team members should have some sort of entrepreneurial quality to get their games out there , this is one of the biggest reasons indie games tend to fail is because people don't know about their games even if they might be great.
Enjoy the process of making the games
Have some sort of financial support system in place (I will be covering options for this in a future post down the line)
This following diagram I found on Gamasutra (2016) suggests a line of thought for deciding whether to start an indie game studio. After talking to developers at Gamecity I noticed that the decisions in this diagram are all thought about very carefully by developers and they come up with their own solutions to each stage.
Now if I were to approach this diagram with the idea of creating simple arcade-like mobile games I probably won't get as much creative mileage as I would from making the kind of games I enjoy, which are adventure games and narrative driven games. I thought before that making a game like that had to be really long and take a while to develop but I received some recommendations about games I should look, about small contained narrative games which can work up to a larger project down the line. I was told about a number of games like Thirty Flights of Loving (2012) and Gravity Bone (2008) by Blendogames, these games are very short but contain a clear story that is told very efficiently, the narrow scope allows the developer to really hone in on what matters most in the game.
I think as development goes forward I will concentrate on making more experimental gameplay of limited scope like this with a concept behind it as opposed to more arcade-like games. This should make an easier transition into my goal of doing more ambitious adventure style games later on down the line.
Sources:
1. NATIONAL VIDEO GAME ARCADE (2016) NVA Patrons. [Online Image] Available from: http://gamecity.org/patrons/ [Accessed 07/11/16]
2. HUMBLEGROVE 29 ITCH.IO (2016) 29 Screenshot. [Online Image] Available from: https://humblegrove.itch.io/29 [Accessed 07/11/16]
3. GAMASUTRA (2016) Starting An Indie. [Online Image] Available from: http://www.gamasutra.com/blogs/JeremyLam/20160414/270383/So_you_want_to_start_an_indie_studio.php [Accessed 07/11/16]
4. ALL THE DELICATE DUPLICATES (2016) Screenshot. [Online Image] Available from: http://allthedelicateduplicat.es/ [Accessed 07/11/16]
5.
HUMBLEGROVE (2017) 29 [Online] PC. London/Tokyo: Humblegrove
6. DREAMING METHODS and MEZ BREEZE DESIGN (Release date to be confirmed) All The Delicate Duplicates [Online] PC. Dreaming Methods and Mez Breeze Design.
7. NATIONAL INSECURITIES (2016) Itch.Io - Disorient On The Murder Express [Webpage]
Available from
: https://nationalinsecurities.itch.io/disorient-on-the-murder-express [Accessed 07/11/16]
8. WILSON, B. (2016) Ben Wilson Portfolio
[Webpage]
Available from
: http://www.ben-wilson.co.uk/portfolio/category/game-dev/ [Accessed 07/11/16]
9. PETLENKO, A. (2016)
Gamasutra - Starting your own Game Development Studio One Year On
[Webpage]
Available from
:
http://www.gamasutra.com/blogs/AlexPetlenko/20160307/267328/Starting_Your_Own_Game_Development_Studio__One_Year_On.php
[Accessed 07/11/16]
10. MADSEN, R. (2014)
Gamasutra - Starting an Indie Game Studio Part 1
[Webpage]
Available from
:
http://www.gamasutra.com/blogs/RobertMadsen/20140731/222331/Starting_an_Indie_Game_Studio_Part_1.php
[Accessed 07/11/16]
11. SMALL IMPACT GAMES (2016)
GameCity Festival 2016 - Surviving Survival: Building a Community In Early Access [Online video]
Available from
:
https://www.youtube.com/watch?v=FOtsHaZfM4Q
[Accessed 07/11/16]
12. MARSH, D. (2008)
Gamasutra - Nine paths to Indie Game Greatness
[Webpage]
Available from
:
http://www.gamasutra.com/view/feature/131952/nine_paths_to_indie_game_greatness.php?print=1
[Accessed 07/11/16]
13. CHUNG, B. (2016) BLENDO games [Website] Available from: http://blendogames.com/
[Accessed 07/11/16]
14. BLENDO GAMES (2012) Thirty Flights of Loving [Online] PC. Blendo Games.
15.
BLENDO GAMES (2008)
Gravity Bone
[Online] PC. Blendo Games.